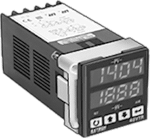 More cleverness from Taro Ishikawa. Instead of buying a homeothermic heating pad for surgeries (these often cost > $1000), Taro used some basic industrial process control items. He bought his stuff in Japan, but similar items are available from McMaster-Carr in the US.
Part 1
A Precision Programmable Temperature PID Controller, about $200 (shown at top of post)
(Example McMaster-Carr item: 38615K71)
This connects to a temperature probe and a heating element to maintain a pre-set temperature. They're built with fairly robust feedback algorithms and logic to maximize stability.

Part 2
A temperature probe, about $20
(Example McMaster-Carr item: 9251T91)
Pretty basic.

Part 3
A heating pad, about $50
These are available in a variety of sizes.
(Example McMaster-Carr item: 35475K722)
Just make sure all the parts are electrically compatible. Depending on which ones you select, you may also need a power supply. (The standard Labrigger disclaimer applies.)