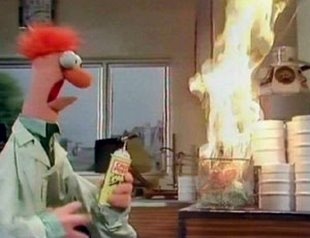 This is a work in progress, please contribute additions, thoughts, and criticism (constructive and otherwise) in the comments.
Step 0. RTFM.
Step 1. Turn it off and back on.
Congrats. There is a 99% chance you just fixed it.
Step 2. Check the connections.
Unplug the cable and replug it back in. Repeat with all plugs.
Step 3. Check the cables themselves.
Check the continuity of all connecting cables. I recently tracked a problem down to a defective, Hamamatsu-supplied cable. They had nicely soldered on a simple connector, but so much solder flux was used that the electrical connection was very poor. I clipped it off and attached a new connector. Problem solved.
Step 4. Check power supplies.
Most sane EEs add in a bit of protection to the main circuit to make it resistant to power spikes, etc. So although power supplies themselves are often the sites of failure, the rest of the device may be fine. Check to make sure they're providing the correct voltage and that it doesn't change when under load. I've had power supplies seem okay when tested with no load– only later did I find out that they were bad under load. Either swap with another power supply, or measure the current under load using a test circuit. If the power supply is on the main circuit board with the rest of the device, then skip this step.
Step 5. Contact the manufacturer.
Often there are important troubleshooting tools not documented in the manual, e.g., test points, key press commands, and service modes. The company might offer helpful information.
Step 6. Buy a new one (or request a replacement).
Time is money. Although blown capacitors are often easy to spot by eye and replace, in my opinion, it is not typically a good use of scientist time.