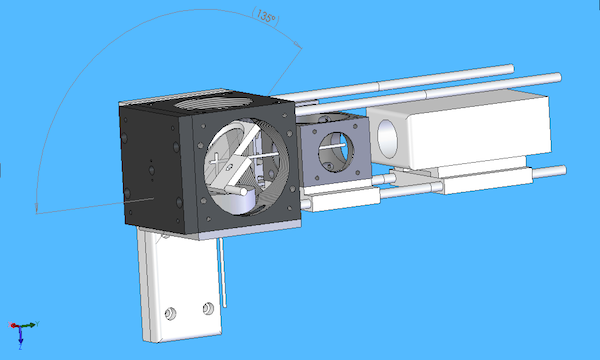 I use SolidWorks to design custom parts for my rigs. Many times, these parts mate with existing Thorlabs parts. Fortunately, Thorlabs offers SolidWorks files that can be directly added to an assembly to ensure everything fits. It's easy to fix relationships between parts (e.g., force a part to slide along posts in the cage system), and determine how everything fits together.
In the screenshot above, some of you probably recognize the Thorlabs cubes, like Darcy was talking about recently, which are so handy. Here, I use one as a enclosure for a dichroic flipper (custom designed in SolidWorks, then 3D printed), and another in the collection pathway.
Thorlabs recently broke ground on a new corporate headquarters in New Jersey. They're clearly doing a lot of things right. I like their easy-to-navigate website, fast shipping, and how they share a lot of technical information on their parts (including the SolidWorks files of the parts as mentioned in this post).