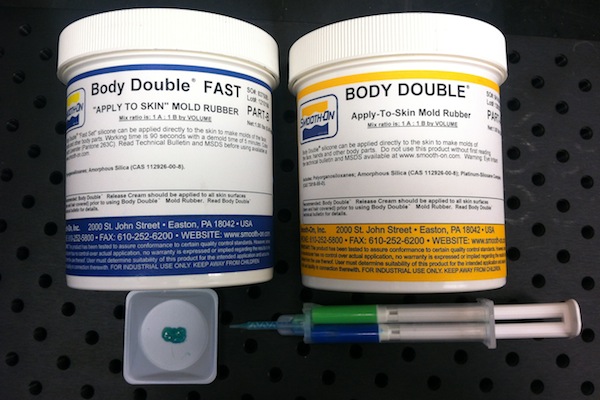 I find WPI's Kwik-Cast handy for some things around the lab. When we were modest users, the price didn't bother me too much. However, when we started going through so much of it, I wondered if there was a way to buy it that fit our consumption level a bit better.
Both of those pots together were about $50. (Body Double Fast Set – Trial Size, Reynolds Advanced Materials)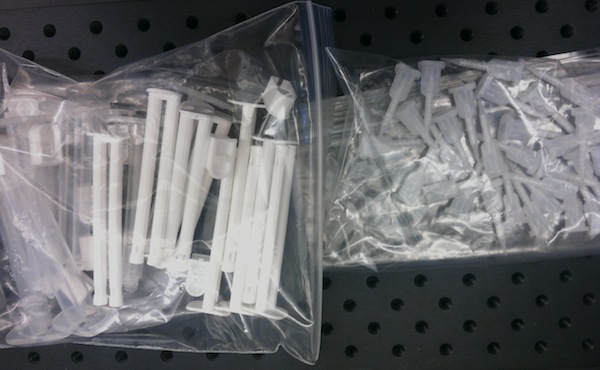 These are the double-barreled syringes and mixing tips I bought. They're from this company.
2mm x 8 Element, Needle Tip
qty. 1-99 – $0.91 each (WPI charges about $2.90 per tip, about 318% more)
qty. 100+ – $0.637 each (Buy 100 for $63.70. From WPI, 30 tips cost $87.00, 455% more)
4B19 Double barreled syringe
qty. 1-99 – $1.953 each
qty. 100+ – $1.367 each
Here, you can see below that the WPI Kwik-Cast kit uses the same syringes and mixing tips, at least as far as I can tell.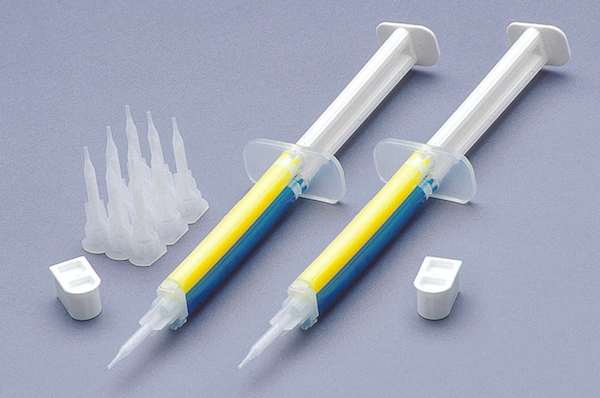 From WPI, each of these syringes (with contents) is $85.
So you can buy the DIY stuff above ($50), 50 tips ($9.10 * 5 = $45.50), and 10 syringes ($19.53) for a grand total of $115.03. This would cost $850 + ($29 * 5 = $145) = $995.00 from WPI.
Plus, with the DIY way, you'll still have the vast majority of your silicone elastomer left over from the $50 kit. I'm not sure I'll ever run out.
The drawback of the DIY way is that you have to fill your own syringes, or have an undergrad do it for you. I used a couple of 5 mL syringes, and it took maybe a minute or two to do one syringe.