You probably caught the article about the group who runs their laser-trapping experiments using an app they wrote for iOS on the iPad. This sparked a commentary about apps in science. What about some other apps for handheld and tablet computing?
Reference organization
In general, when it comes to organization, the system is only as good as it is regularly used. In order to ensure that it's used regularly, it needs to be very simple and require almost no energy on the part of the user. Both of the apps below have iOS versions available, as well as their main versions. For many, being able to catch up on reading using a tablet or handheld device while still having access to their entire database will be very attractive. It's an alternative to a stack of papers or a laptop/desktop.
Papers
This is an OSX/iOS-only program. The recently released version 2 of this program represents a huge rewrite. This software has a great look-and-feel, a ton of well-thought-out features, and support for both handheld and tablet computers (as long as they run iOS). It's $79. (review by Ars Technica)
Mendeley
This one is free. It's also cross-platform (Linux, Windows, and OSX). There's also an iPhone app for it. In addition to the organization features you'd expect, Mendeley pioneered a social network aspect to reference management that is now being copied by other outfits. Their huge database is the subject of a $10,001 application development contest currently running. (review by Ars Technica)
Lab management
Wikis and purchasing databases are useful tools for managing a lab. Several online tools like collaborative calendars and are easily usable through any web interface, including tablets and handhelds, while others have dedicated apps for these other platforms.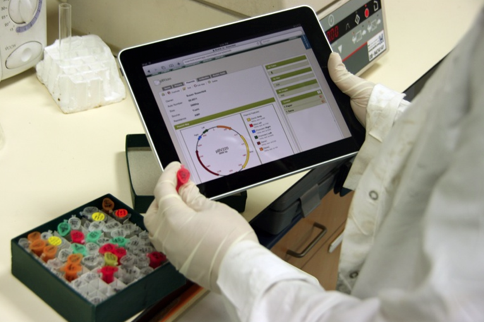 BioKM
The commentary from Nature Photonics I mentioned earlier took the opportunity to mention a sister company, Digital Science, which making some interesting software. Their lab management tool, BioKM, has an iPad app interface. It's looks like it could be useful. Unfortunately, it's an expensive piece of subscription software, $85-$320 per month (that's $3840 per year at the top end). Plus, being cloud-based, security may be an issue, especially for labs that deal with patient/human volunteer data. (Their FAQ reads "Learn more about BioData's security policy here." And then offers no link.) Sharp-eyed viewers of their tour screencasts will note that the software doesn't look entirely different from a customized wiki. Most of which are completely free and can be run from your own servers. Maybe it's worth the price somehow.
Reference material
As you might imagine, there are far too many to mention here. And honestly, the utility isn't always clear. Most of the info is as easily available from a browser+search engine. But here are a couple I feel like listing.
SPIE Field Guide to Geometrical Optics – Surprisingly well done.
DailyCalcs – A bunch of handy calculators from Invitrogen.
There are others, including offerings from QIAGEN, Promega, and New England Biolabs. They're all fairly well done and have useful features. But some of these are a bit too wide in scope, for my taste anyways. If I need a molecular biology protocol for something I haven't done before, my research will be a bit more in depth than simply following the recipe my iPhone app has to offer.
Other scientific apps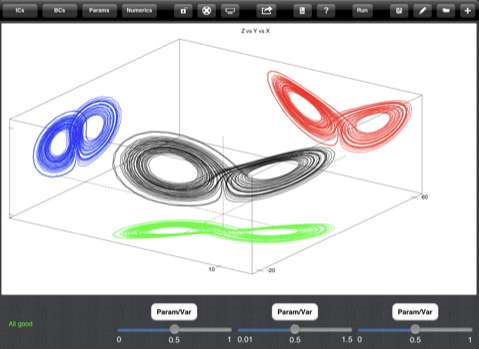 XPP
This is Bard Ermentrout's program for solving systems of ordinary differential equations and related problems. Ashutosh Mohan ported it to iOS. Nice!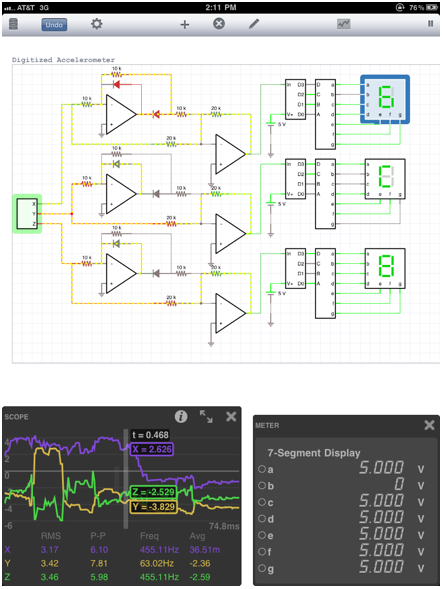 iCircuit
This is a circuit simulator. If you feel like your iPad's battery life is a little too impressive, try to get some work done with this puppy.
oScope
Uses the audio in as input and offers oscilloscope and spectrum analyzer views. Not as versatile as the other iOS-based scopes covered previously, but sometimes useful.
LabTimer
Does what it says on the tin. Unlike the built-in iPhone timer app, this one has 4 fully functional, independent lab-type timers.
Molecules
An excellent molecule viewer.
Acceleration 3D Detector – Lets you record data from the accelerometers in the device. Handy for measuring vibrations on rigs.