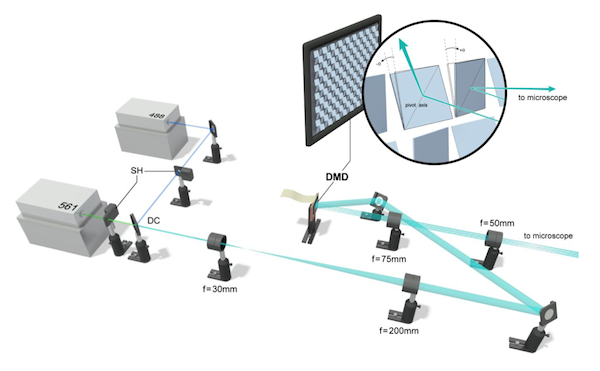 This paper (York et al. 2012) came out earlier this year, but I thought it's worth highlighting here, give the subject matter.
We present a hybrid technique, multifocal SIM (MSIM), that combines the resolution-doubling characteristics of SIM with the physical optical sectioning of confocal microscopy. MSIM uses sparse 2D excitation patterns generated with a DMD integrated into a conventional wide-field microscope and digital processing after acquisition ('postprocessing') to obtain optically sectioned images with ~145-nm lateral and ~400-nm axial resolution at 1-Hz frame rates. Relative to existing SIM, our implementation is easier to integrate onto existing microscopes and is considerably cheaper than commercial SIM.
For imaging, they used an sCMOS camera: the pco.edge (I've demo'd one, they're very cool). In the supplement, they offer some helpful tips on how to set up the camera to obtain high quality images. This section is a good example of how the authors carefully prepared the paper to ensure that others can replicate their success– all methods papers should be this detailed and helpful.
The lead author, York, recently commented in the confocal listserv and shared some of his thoughts and code on the pco.edge camera (link).